In terms of growth, it's always good to have moments to reflect upon things you have done in the past. Not only to see if they will help you move forward but also to appreciate the fact you have actually DONE these things. And in these quiet days in between the rush of Christmas and New Year's EVE creeping around, it's a good time to look back on the year I leave behind. In this post I look back on planning in my Midori Traveler's Notebook.
I have implemented my
Midori Travelers Notebook planning
since last year november. Next to my weekly planning in my pocket midori (which I have been lacking to do these past few month to be honest) these monthly update should give an overview of all the fun things I have done that month. And seeing the finished pages side by side definitely portraits a colorful year. Here's an overview from november 2015 through november 2016.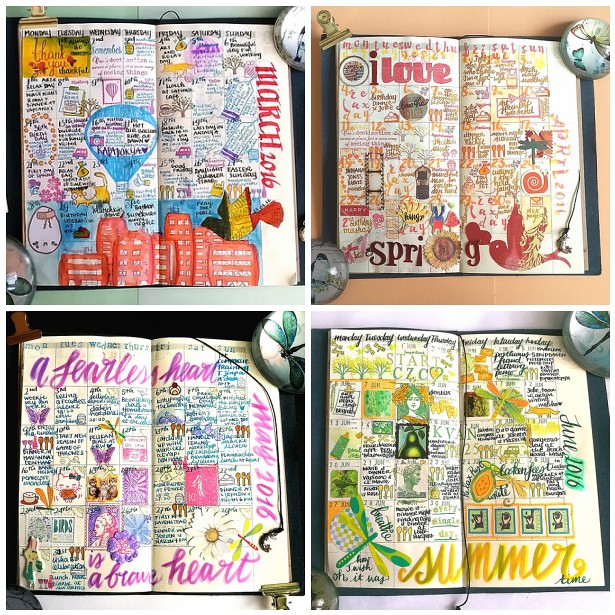 Following clockwise top left;
March
,
April
,
May
and
June
. Key words here were Brithday, Kapadokya, spring, compassion, hand lettering and summer.
Following clockwise top left;
July
,
August
,
September
and
October
. Key words here were rain, bronchitis, flowers, penshow, meetups, halloween, fall and blue ghost.
My
november 2016 update
is still fresh, from this week. Vacation, anniversary, Seville were the key words that month. And with Astrogirl looking back, it concluded my monthly updates of the year 2016. Below is a flipthrough I made on Instagram
My undated Midori planner is now full with a year's worth of memories. I have debated if I should continue this was for next year and after careful consideration I decided not to. While this experience was interesting and fun, it also cost me a lot of energy to create the pages. And I have a lot of exciting things coming up in the new year, the 1st half at least, which is going to need more my creative attention. Next week I will be able to tell you more about this :)
I am going to use my midori pocket planner again next year as well as a Stalogy undated planner as a gratitude journal, so it's not like I am going to quit planners completely. So I will definitely share those planning adventures with you here :)
Thank you for your continued support on my blog and elsewhere on social media through out the year! It's very much appreciated!


Wishing you all a wonderful and safe NYE celebration!
namasté